Steven Costello Chops Products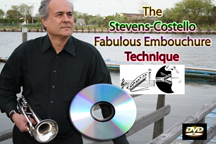 Now available to all trumpet / brass players on DVD. The DVD is presented by Dr. Alan Geller, student of Roy Stevens' system for over 40 years.
The DVD "Stevens-Costello Embouchure Technique" should be used in conjunction with the book "Embouchure Trouble and Self. Analysis" revised and edited by William Moriariity 2006, Charles Colin Publications, N.Y.C. There are eight Chapters for teaching purposes.



View Sample Clip
DVD Now On Sale! $29.99
(+ $10.00 Shipping and Handling ) or
(+ $30.00 International Shipping and Handling )
(Flat Rate Shipping - All Over The United States)
For international or multiple quantity of any of our products please e-mail us at contact@stevens-costellochops.com in advance, so we can prepare an invoice for you.
Thank You, Stevens Costello Chops (516) 223-6908
1. Introduction
In this, Dr. Geller demonstrates low "C" to double high "C". This is followed by a synopsis of the Costello method by William Moriarity, former President of Local 802 American Federation of Musicians, N.Y.C. Then an interview with Paul Bogosian, former lead player of the Don Ellis big band, Broadway shows and numerous orchestras in New York and Philadelphia. Final testimony and comments by Dr.Alan Geller.

2. Preparatory Exercises
Building the muscular strength to achieve an unlimited range, it requires the use of "new muscles" not used by most players in their present setup.

3. Rules for Setup
Having achieved the muscular strength and direction with "fixed corners" of the lips in a closed position, a slightly forward jaw and an open tooth aperture we are ready for action!

4. Rules for Play
This includes mouthpiece placement, setup review, proper breathing and tongue placement.

5. Bad Habits
This includes some obvious habits that will not give the desired results to achieve the phenomenal embouchure.

6. Statics
The "secret" to the Costello technique. The horn held in the right hand and palm (without left hand pressure) to create the proper lip contractions for the entire range of the instrument.

7. An extreme exercise
A demonstration of low F# to high F# in chordal sequence to double high "C".

8. Solo and Credits – performed by Dr. Alan Geller (pre-recorded)