Steven Costello Chops Products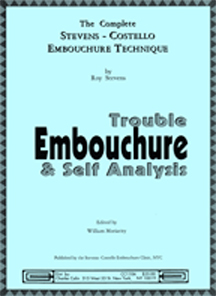 The book "Embouchure Trouble and Self Analysis" and
complete Stevens-Costello Embouchure Technique.
Discusses the finite detail to achieve a phenomenal embouchure. It is not a quick fix and requires time and patience. Topics covered are sound, embouchure muscles, the jaw, tonguing, breathing and over 50 pages of exercised to develop the new embouchure for unlimited range.






Embouchure Trouble and Self Analysis
Book Now On Sale! $24.99
(+ $10.00 Shipping and Handling ) or
(+ $30.00 International Shipping and Handling )
(Flat Rate Shipping - All Over The United States)
For international or multiple quantity of any of our products please e-mail us at contact@stevens-costellochops.com in advance, so we can prepare an invoice for you.
Thank You, Stevens Costello Chops (516) 223-6908