Steven Costello Chops Products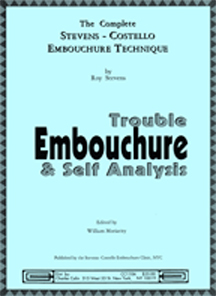 The book "Embouchure Trouble and Self Analysis" and
complete Stevens-Costello Embouchure Technique.
Discusses the finite detail to achieve a phenomenal embouchure. It is not a quick fix and requires time and patience. Topics covered are sound, embouchure muscles, the jaw, tonguing, breathing and over 50 pages of exercised to develop the new embouchure for unlimited range.






Embouchure Trouble and Self Analysis
Book Now On Sale! $24.99
(+ $10.00 Shipping and Handling ) or
(+ $20.00 International Shipping and Handling )
(Flat Rate Shipping - All Over The United States)
For international or multiple quantity of any of our products please e-mail us at contact@stevens-costellochops.com in advance, so we can prepare an invoice for you.
Thank You, Stevens Costello Chops (516) 223-6908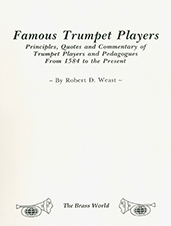 The book Famous Trumpet Players from 1584 to Present.
Carefully researched and compiled by author Robert D. Weast (91 pages). Not to be found anywhere, it has covered in quotes and commentaries trumpet masters from Harry Glantz, Max Schlossberg, Adolph Herseth, Maurice Andres to Miles Davis, Louis Armstrong and Maynard Furguson to name a few. It includes great sketches of some. Dr Alan Geller as an advocate of the "Stevens-Costello System", is listed on page 35 of this book under a commentary of "Excessive Pressure Vitiates Survivability" (on the same page as Maynard's).Roy Stevens Embouchure Technique System is also described p.74.



Famous Trumpet Players from 1584 to Present
Book Now On Sale! $19.95
(+ $10.00 Shipping and Handling ) or
(+ $20.00 International Shipping and Handling )
(Flat Rate Shipping - All Over The United States)
For international or multiple quantity of any of our products please e-mail us at contact@stevens-costellochops.com in advance, so we can prepare an invoice for you.
Thank You, Stevens Costello Chops (516) 223-6908