What is the Stevens-Costello Embouchure Technique?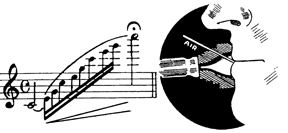 A non-pressure system of brass playing based on physical laws of the embouchure setup; that when used with proper air compression and direction can produce an unlimited range. There is no other system out there that gives you the "notes" on a brass instrument before one develops the rudiments of music. It contradicts the evolutionary way of "building chops for years".
It was founded by William Costello in the 1930's and later taught by Roy Stevens until 1989 in New York City. The concepts of the Costello systems have been used by trumpeters and brass players worldwide for decades, helping those with embouchure problems and developing others to become great lead players.
Now available to all trumpet players in DVD, it is presented by Dr. Alan Geller, student of Roy Stevens. The revised book of the Complete Stevens-Costello Embouchure Technique and Embouchure Trouble and Self Analysis accompanies it, edited by William Moriarity , close friend and student of Roy Stevens.
Stevens-Costello Embouchure Technique DVD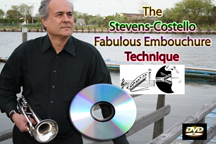 Stevens-Costello Embouchure Technique DVD
DVD Now On Sale! $29.99
(+ $10.00 Shipping and Handling ) or
(+ $30.00 International Shipping and Handling )
(Flat Rate Shipping - All Over The United States)
International
Embouchure Trouble and Self Analysis Book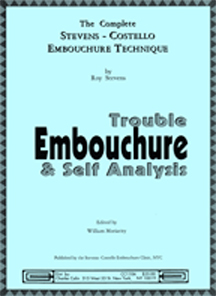 Embouchure Trouble and Self Analysis
Book Now On Sale! $24.99
(+ $10.00 Shipping and Handling ) or
(+ $30.00 International Shipping and Handling )
(Flat Rate Shipping - All Over The United States)
International
Combination: Book and DVD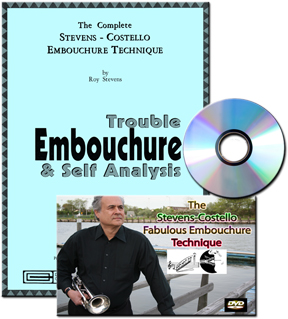 Embouchure Trouble and Self Analysis Book and Stevens-Costello Embouchure Technique
Now On Sale for $49.99
(+ $10.00 Shipping and Handling ) or
(+ $30.00 International Shipping and Handling )
(Flat Rate Shipping - All Over The United States)
International